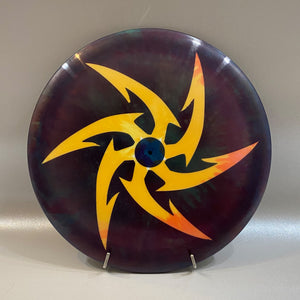 Custom Dyed Star Wraith! Swirly design with oranges, pinks, and yellows. The Innova Wraith is a long distance driver with good speed, a lot of glide, and can fly on a rope for accurate shots.
Make: Innova
Model: Wraith
Plastic: Star
Flight Numbers: Speed: 11 Glide: 5 Turn: -1 Fade: 3
Original Color: White
Weight: 174 grams
* Discount applied - experimental design and colors did not come out as intended...
** Original factory second stamp removed but can still be seen in some lighting