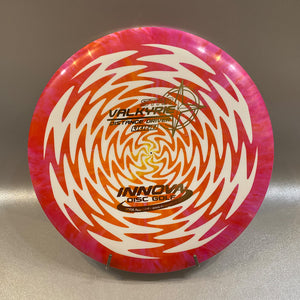 Sweet swirly dye on an Innova Star Valkyrie! A very popular driver and former world record holder for distance, this driver will provide high speed turn and fade.
Make: Innova
Model: Valkyrie
Plastic: Star
Flight Numbers: Speed: 9 Glide: 4 Turn: -2 Fade: 2
Original Color: White
Weight: 165 grams 
Customer Reviews
I recommend this product
Better than expected
Bought this Valkyrie and a firebird, they look better in person. The hardest part is trying not to throw them all the time. Amazing job guys!