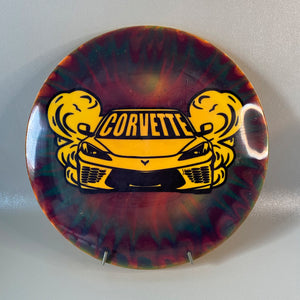 Take this custom dyed star Corvette for a spin. Stencil and glue bed dye.
Make: Innova
Model: Corvette
Plastic: Star
Flight Numbers: Speed: 14 Glide: 6 Turn: -1 Fade: 2
Original Color: Yellow
Weight: 168 grams
*Original stamp removed and can slightly be seen in certain lighting from different angles
**Discount applied - Dye did not mix as intended.