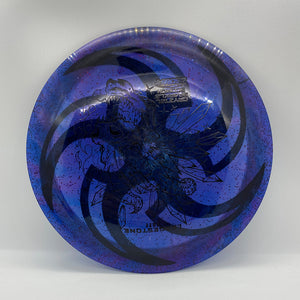 Ninja star on a CryZtal Sparkle Scorch. The Scorch is an understable distance driver that is a straight flyer for slower arm speeds or turnover/rollover for faster arms.
Make: Discraft
Model: Scorch
Plastic: CryZtal Sparkle
Type: 2022 Ledgestone Limited Edition (Only 3000 made)
Flight Numbers: Speed: 11 Glide: 6 Turn: -2 Fade: 2
Original Color: Clear Pink
Weight: 171 grams
**Discounted due to dye coming out way too dark. Difficult to see.